The Ethical Imperative of the University Press
Peter Berkery (he/him), Executive Director, Association of University Presses (AUPresses)
Annette Windhorn (she/her), External Communications Manager, Association of University Presses (AUPresses)
Abstract
University presses are unlike other publishers in a number of ways; arguably, one of the most important distinctions is a unique relationship to the ethical implications of our actions. This article, based on a presentation to the GW Conference on Ethics in Publishing in fall 2020, uses the strategic planning process through which the leadership of the Association of University Presses (AUPresses) identified and iteratively defined our community's four core values as a lens to examine our community's ethical imperatives. We'll focus on how ethical considerations, particularly with regard to diversity, inclusion, and equity, have informed those values and how the Association and our individual members are putting our values in action.
1. Introduction
AUPresses currently comprises 158 member presses in 17 countries, 100 of which are affiliated with US colleges and universities (Association of University Presses, 2021) Our member presses published more than 12,000 new books and 1,500 journals in 2021 alone, with more than 330,000 titles in print. The business of the Association is carried out by 21 committees and task forces (AUPresses, 2021a), a 13-member Board of Directors (AUPresses, 2021b), and 7 central office staff (AUPresses, 2021c).
Fundamentally, AUPresses is a mission-driven, professional community. As a community, the leaders, volunteers, and staff work collaboratively with each other and with member presses and press staff, home institutions, authors, scholarly and general readers, freelancers, booksellers, service vendors, journalists and reviewers, and other associations and scholarly groups.
Mindful of these reference points and relationships, the Association's Board of Directors set out in 2014 to articulate our identity and values, set our goals as a community, and create a new strategic plan.
2. Mission Statement
There's no single right way to craft a strategic plan, but all good strategic plans include a mission statement. The Association's is: "AUPresses advances the essential role of a global community of publishers whose mission is to ensure academic excellence and cultivate knowledge." As we discuss in this paper, the key concepts of our mission are profoundly shaped by our understanding and pursuit of diversity, inclusion, and equity: Who is included in "community," what constitutes academic excellence, and how is knowledge cultivated? All of these concepts merit continuing interrogation.
3. Top-Level Goals
Another critical step in strategic planning is the setting of top-level goals. Together, the Association's Board and staff identified these:
Advocacy – to increase the visibility of our members and their work

Collaboration – to build membership and to foster internal and external partnerships

Research – to provide data and analysis to support advocacy and to inform publishing operations and new business models

Education – to provide professional development leadership training

Infrastructure – to support the Association's goals with sustainable, flexible, and robust financial and technological infrastructure
The pursuit of these goals has guided the Association's activities since their adoption in 2014. Upon revisiting the strategic plan in early 2019, our Board and staff agreed that the infrastructure goal had been largely achieved—most visibly through key technology upgrades as well as our redesigned public website and new member collaboration and discussion space, UP Commons. While maintaining robust, carefully crafted, and agile infrastructure will continue to be important to the Association, we felt that infrastructure no longer needed to be the focus of a stand-alone strategic goal.
4. Core values
Core values are another essential component of any strategic plan, offering guiding principles and touchstones for a community's work. Coming out of the 2014 exercise, ours were:
Intellectual freedom

Integrity

Stewardship

Diversity
AUPresses has continued to devote a good bit of care and thought to refining our understanding of the principles that define our community and the ethics of our practices. In fall 2019, our Board members revisited these core values, with the goal of more fully defining what each meant to our community and how each was enacted in university press publishing work. We presented this value definition to our wider membership during the 2020 Annual Meeting via a graphic illustration (Fig. 1), a compass of co-equal, interrelated quadrants.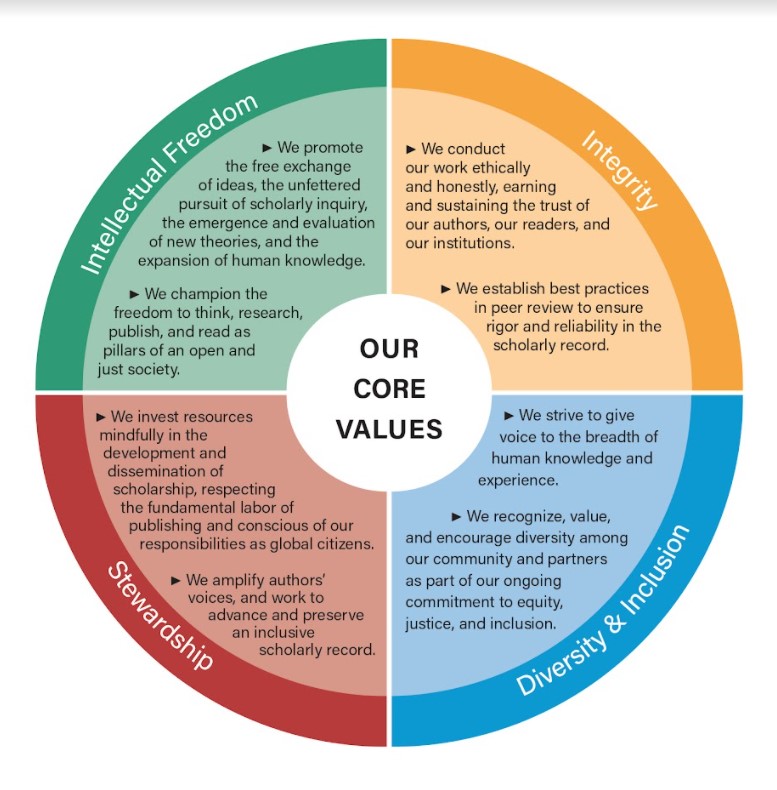 Figure 1: AUPresses, "Our Core Values"
The ongoing process of review and reconsideration is as central to value-setting as it is to scholarship, and its impact is particularly clear when we look at how it has affected how we conceive one of our core values. Originally labeled "Diversity," in 2019 we renamed this value to encompass "Diversity and Inclusion," intending to highlight our growing understanding of the real work that must underlie any appearance of diversity. Diversity is image-based, representational, and easily quantifiable, while inclusion aims to embrace, engage, and empower formerly excluded individuals. Further, as our volunteer leaders on the Board and in our committees have continued to do critical work in this area, they are increasingly expressing that work, and seeking to measure its outcomes, in terms of equity and justice. As Professor Dafina-Lazarus Stewart succinctly described in Inside Higher Ed, equity and justice work operates on a systemic level, aiming to revise abusive systems, increase support for people who have been targeted, and eliminate policies and practices that have disparate impacts on minoritized groups (Stewart, 2017). While we acknowledge that diversity, equity, and inclusion (DEI) is the standard descriptor, we'll use equity, justice, and inclusion (EJI) in this article instead, to indicate more clearly where our community's sights are set and how much there is yet to do to affect real and lasting change. It is worth noting that our current committee charged with guiding this important work is called the "Equity, Justice, and Inclusion Committee" , perhaps forecasting yet another refinement of this core value.
At the outset it is essential to recognize what is baked into "we," the subject of each value-defining statement in this paper. Because these statements were proposed and workshopped by our Board members, in person and in a lovely, sun-filled conference room, the "we" construction arose quite organically: "we" represented those individual leaders, thinking and planning on behalf of our member presses and their staff worldwide. Referencing "we" in these statements also recognizes that many individuals, mostly volunteer leaders in press working groups and Association committees and task forces, are essential to enacting the group's shared values at member presses and at the Association level.
But it is also crucial to acknowledge from the outset that our "we" is not diverse. Systemic racism pervades our industry and the academy, and actively limits participation by all. The university press segment of the Lee & Low Books Diversity Baseline Survey (DBS 2.0) in 2019—comprising 35 publishers and more than 900 individual staff responses—shows a workforce that is even whiter than the full Lee & Low DBS 2.0 surveyed landscape (81% vs. 76%) and is 64% cis female, 79% straight-identifying, and 88% non-disabled (AUPresses, 2021d). These data demand that AUPresses and our members acknowledge and address this imbalance and build new practices to support equitable knowledge production. It is imperative to cultivate continual awareness of who "we" are and how that "we" requires intentional and sustained expansion.
The remainder of this paper focuses on unpacking how these considerations undergird each core value and can inform ethical actions springing from them.
5. Intellectual freedom
"We promote the free exchange of ideas, the unfettered pursuit of scholarly inquiry, the emergence and evaluation of new theories, and the expansion of human knowledge."
"We champion the freedom to think, research, publish, and read as pillars of an open and just society." (AUPresses, Our Core Values)
Embracing the value of intellectual freedom is a natural foundation for a community like ours that prioritizes the cultivation and advancement of knowledge. At the Association level, we regularly add our community's voice(s) as scholarly, mission-driven publishers in defense of intellectual freedom. Most recently, we have defended the freedom to think and read by denouncing the propagandistic report of the White House's 1776 Commission ((AUPresses, 2021e)) and condemning the White House Executive Order on Race and Gender Stereotyping ((AUPresses, 2020a)), which would have implemented a fundamentally misleading prohibition on the acknowledgment of systemic racism in the US. We've protested instances of academic censorship, as when Zoom, Facebook, and YouTube refused to provide a streaming platform for an online roundtable at San Francisco State University that included a member of the Popular Front for the Liberation of Palestine ((AUPresses, 2020b)). We've also encouraged all who support the publication of open access scholarship to recognize the needs of multiple and diverse constituencies, including researchers, authors, and readers who may face unequal access to digital technologies, institutional infrastructure, and funding ((AUPresses, 2019)).
Our member presses are engaged daily in defending the right to think, research, publish, and read. The EJI dimension to our intellectual freedom value is perhaps most compellingly demonstrated by the way that mission-driven university presses advance knowledge by championing new authors, ideas, and communities. Groundbreaking thought, especially in interdisciplinary or intersectional fields and beyond the scope of mainstream publishing, has long been fostered by university presses. For example, the University of Arizona Press—along with the University of Minnesota Press, the University of North Carolina Press, and the Oregon State University Press—began collaboratively publishing the first books in Indigenous studies in 2009, just as that field was emerging. Since 2014, Duke University Press's Transgender Studies Quarterly has published interdisciplinary work that explores the diversity of gender, sexuality, and identity in ways not addressed by medical studies or feminist and queer scholarship. Most recently, the MIT Press and Penn State University Press have amplified the emergence of new ideas at the intersection of science, medicine, art, and design.
6. Integrity
"We conduct our work ethically and honestly, earning and sustaining the trust of our authors, our readers, and our institutions."
"We establish best practices in peer review to ensure rigor and reliability in the scholarly record." (AUPresses, Our Core Values)
Our integrity as member presses and as a community is drawn directly from the ethical manner in which we conduct our work of discovery, publication, and promotion with a variety of stakeholders, earning and re-earning their trust through transparent processes and communication. Ongoing attention, evaluation, and advancement of best scholarly publishing practices—through the work of hundreds of volunteers and widespread member participation in AUPresses webinars, listservs, and UP Commons discussion groups—are essential to maintaining our professional integrity and transparency. The Association's participation in the broader scholarly communications community also advances this work, through membership in the International Publishers Association and the Book Industry Study Group and in frequent collaborative projects with the Association of American Universities and the Association of Research Libraries, among others.
Conducting the work of scholarly publishing honestly also means acknowledging underlying biases. Association members are particularly mindful of the vestiges of privilege and systemic racism that lurk in scholarly editorial processes as they collaborate to improve standard practices. For example, virtual conversations on diversity and trust in peer review, hosted by our Acquisitions Editorial Committee as part of recent, international Peer Review Week observances, have provided spaces for needed discussion and evaluation of this distinguishing feature of university press publishing. Currently, this committee is iteratively engaging in the revision of Best Practices for Peer Review, an influential and public-facing resource.
The Association and its members also support and advance integrity in scholarly publishing by establishing ethical codes of conduct and encouraging their widespread development and use throughout our community. These documents—e.g., from AUPresses, the American Historical Association, the University of North Carolina Press, and Princeton University Press—establish parameters of conduct, civility, respect, and professionalism, and protect all by creating a common language and set of expectations.
7. Stewardship
"We invest resources mindfully in the development and dissemination of scholarship, respecting the fundamental labor of publishing and conscious of our responsibilities as global citizens."
"We amplify authors' voices, and work to advance and preserve an inclusive scholarly record." (AUPresses, Our Core Values)
It is customary to consider stewardship as primarily pertaining to natural and financial resources. Design and production professionals in our community have long taken environmental stewardship concerns seriously, carefully evaluating and making smart and sustainable choices with regard to paper, ink, and, increasingly, digital means of publishing. The entire staff of each member press also works together to make myriad financial decisions as good stewards of their parent institution's financial support. (For a more robust discussion of this aspect of university press stewardship, see "Why a University Press is a Good Investment," (Pratt and Doerr, 2019)).
EJI concerns become visible in this core value when we envision the ways that university presses act as good stewards of a richer and more inclusive scholarly record. Every day, university press professionals painstakingly evaluate, contract with, and edit authors; skillfully produce and publish their work, often in elegant form and multiple formats; and connect their ideas with both the scholarly community and the wider world. Considering demographic information about their authors, peer reviewers, and freelancers, and explicitly seeking to expand those talent pools is a starting place for many of our members. Notably, some are also creating entirely new publishing models with a focus on the collaborative, equitable preservation and sharing of knowledge, such as Ravenspace, developed by the University of British Columbia Press, Indigenous communities, and other partners, including the University of Washington Press.
As an international community of publishers contributing to the global knowledge ecosystem (the multilingual expressions of our mission statement present just a few of the languages spoken, written, and published by our member presses and their authors), the Association's good stewardship also means facilitating equitable, transnational dialogue and exchange of scholarly publishing knowledge. The recently launched AUPresses Global Partner Program is the latest example of this approach to stewardship. During its pilot year, the program paired member presses Duke University Press in the US and Liverpool University Press in the UK with nonmember presses African Minds in South Africa and Makerere University Press in Uganda, respectively, for direct interaction; it will also include nonmember press staff in Association's online discussion groups, webinars, and annual meetings and offer them access to AUPresses online professional resources.
With respect to valuing and stewarding the labor of publishing, the Association provides resources for developing staff potential in the form of numerous professional education opportunities—including webinars, rich annual meeting programming, and multiple residency programs—as well as comparative, anonymized salary data by job title that enables informed conversations about equitable compensation. It also advocates for the recognition and proper valuation of those skills and labor as the larger scholarly community contemplates the sustainability of open access publishing initiatives.
8. Diversity and Inclusion
"We strive to give voice to the breadth of human knowledge and experience."
"We recognize, value, and encourage diversity among our community and partners as part of our ongoing commitment to equity, justice, and inclusion." (AUPresses, Our Core Values)
Above, we've addressed the ways that a deepening awareness of equity, justice, and inclusion in our industry inform our community's ethical actions and can be understood to advance all of our core values. So why maintain diversity and inclusion as a separate core value? (Remember, strategic plans are living documents; goals can be achieved and sunsetted, and values' names and aims can be reviewed and brought into sharper focus, while their underlying principles are unchanging.)
Quite simply, continuing to explicitly situate diversity and inclusion as a core value is important because AUPresses as a professional association and our individual member presses are not yet diverse, inclusive, or equitable. Retaining diversity and inclusion as a core value motivates all of us to continue to focus the requisite thought, energy, and resources on integrating equity, justice, diversity, and inclusion into every aspect of scholarly publishing.
As an Association, we've begun grounding this hard work of change in anti-racism, as articulated in the Association's Statement of Equity and Anti-Racism—proposed and painstakingly drafted by our 2017-2018 Diversity and Inclusion Task Force, peer-reviewed by our 2019-2020 Equity, Justice, and Inclusion Committee, and adopted by our Board in 2020. The anti-racist lens recognizes pervasive and devastating impacts of structural racism and white supremacy across virtually every aspect of the publishing industry, higher education, and society itself. It concludes that our most-lasting solutions will "protect and lift up those who have been historically harmed and silenced by our collective inaction" (AUPresses, 2020c).
In addition to helping to recast our diversity and inclusion efforts toward equity, justice, and anti-racism, the dedicated members on our EJI Committee are identifying common needs across our community, collecting best practices to share, and committing to host difficult conversations, locally and via Association-sponsored webinars. Among this group's signal contributions so far: a year-long series of webinars aimed at activating press directors in EJI work, set in motion in response to feedback from press staff members that press leaders were not yet fully engaged in or equipped to tackle EJI issues. The first of these directors' webinars, held last fall, discussed and processed training that our Board of Directors, Central Office staff, and many member press directors received from the Racial Equity Institute, LLC—a data-rich analysis of the devastating impacts of structural racism. Subsequent directors' webinars have examined and discussed the implementation of the Antiracist Toolkit for Allies, which was developed by a team including several university press staff members and published by the international Coalition for Diversity and Inclusion in Scholarly Publishing, of which AUPresses is a founding member.
Our EJI Committee also has organized several informative Community Reads, in which all member press staffers are encouraged to read a designated book, selected from member press suggestions, and subsequently gather and discuss the insights it raises. Books engaged thus far have been White Fragility by Robin DiAngelo (2018), Invisible People by Alex Tizon (2020), and Why Indigenous Literatures Matter by Daniel Heath Justice ((2018)).
Mindful that accessibility also contributes to a diverse and inclusive community, and of the acute need to improve our individual and collective performance in this area, the Association also has worked to make our own resources and programming accessible, with live captioning now standard at virtual Association-sponsored events. In addition, our committees are assisting member presses with understanding and meeting publication accessibility requirements and best practices: for example, the 2019 Annual Meeting Program Committee organized several sessions on accessibility, including "Creating and Using Accessible Scholarly Ebooks" ((AUPresses, 2020d)), and the current Digital Publishing Committee is developing and annotating a list of resources for accessible publishing.
The Association and its members also acknowledge that, after years of talking about and seeking diversity, more must be done to both introduce individuals from a wider variety of backgrounds to potential careers in scholarly publishing and also retain these individuals over a career. To this end, AUPresses no longer accepts ads for unpaid internships on its job-listing site, understanding that unpaid positions unduly privilege students and early-career professionals who have the means to volunteer their time and labor without compensation. Of equal importance, the presses that are currently participating in the second 3-year cycle of the Mellon University Press Diversity Fellowship Program are attempting to apply early lessons to the persistent issue of longer-term retention.(Read more about the Association's diversity and inclusion efforts thus far in "Towards Inclusive Scholarly Publishing," (Coggins et al., 2020).)
9. Conclusion
Supporting ethical imperatives, especially but not exclusively with regard to EJI considerations, requires deliberate attention and review. Essential first steps include introspection, owning privilege, and acknowledging systemic bias that is pervasive throughout the scholarly publishing community, and indeed, throughout much of higher education. It is then possible to define community itself as well as methods of community engagement that are likely to be most productive and beneficial. And finally, ethical work requires the articulation and application of flexible tactics in all areas of agency—among individuals, at presses and institutions, on national and even international scales—and ultimately the establishment of new norms for scholarly publishing. On their own, as participants in their parent institutions' work and planning, and as members of this Association, university presses and their staff have important roles to play in the construction and adoption of robust ethical goals and just strategies that will improve and advance the global knowledge ecosystem.
References
Association of University Presses. (2021, October 21). Board of Directors. Association of University Presses. Retrieved January 21, 2022, from https://aupresses.org/about-aupresses/board-of-directors/
Association of University Presses. (2021, September 17). Committees & Task Forces. Association of University Presses. Retrieved January 21, 2022, from https://aupresses.org/about-aupresses/committees-task-forces/
Association of University Presses. (2021, December 15). Staff. Association of University Presses. Retrieved January 21, 2022, from https://aupresses.org/about-aupresses/staff/
Association of University Presses 2019 Annual Meeting Program Committee. (2020). Creating and Using Accessible Scholarly Ebooks. Vimeo. Retrieved January 21, 2022, from https://vimeo.com/347608282.
Association of University Presses. (2020, March). Statement on Equity and Anti-Racism. Association of University Presses. Retrieved January 21, 2022, from https://aupresses.org/about-aupresses/equity-and-antiracism/
Association of University Presses. (2020, October 9). AUPresses joins in protesting censorship by streaming platforms. Association of University Presses. Retrieved January 21, 2022, from https://aupresses.org/news/aupresses-joins-in-protesting-censorship-by-streaming-platforms/
Association of University Presses. (2019, October 30). AUPresses on open access. Association of University Presses. Retrieved January 21, 2022, from https://aupresses.org/news/aupresses-on-open-access/
Association of University Presses. (2021, January 19). AUPresses responds to the 1776 report. Association of University Presses. Retrieved January 21, 2022, from https://aupresses.org/news/aupresses-responds-to-the-1776-report/
Association of University Presses. (2020, October 8). AUPresses statement on US Executive Order on combatting race and sex stereotyping. Association of University Presses. Retrieved January 21, 2022, from https://aupresses.org/news/statement-on-us-executive-order-on-combatting-stereotyping/
Association of University Presses. Our Core Values. (2020, June). Association of University Presses. Retrieved January 27, 2022, from https://aupresses.org/about-aupresses/our-core-values/
Association of University Presses. Quick facts about university presses. Association of University Presses. (2021, July 23). Retrieved January 21, 2022, from https://aupresses.org/the-value-of-university-presses/member-presses-quick-facts/
Association of University Presses. (2021, March 18). University press numbers from the Lee & Lowe Diversity Baseline Survey 2.0. Retrieved February 14, 2022, from https://aupresses.org/news/up_data_lee_and_low_dbs_2/
Coggins, N. L., Fosado, G. C., Henry, C., & Manaktala, G. (2020, May 6). Towards inclusive scholarly publishing: developments in the university press community. UKSG Insights. Retrieved January 21, 2022, from https://insights.uksg.org/articles/10.1629/uksg.506/
DiAngelo, R. (2018). White Fragility. Beacon Press.
Justice, D. H. (2018). Why Indigenous Literatures Matter. Wilfrid Laurier University Press.
Pratt, D. & Doerr, S. (2019, April 29). UB Op-ed: Why a university press is a good investment. University Business Magazine. Retrieved January 21, 2022, from https://universitybusiness.com/ub-op-ed-why-a-university-press-is-a-good-investment/
Stewart , D.- L. (2017, March 30). Colleges need a language shift, but not the one you think (essay). Inside Higher Ed. Retrieved January 21, 2022, from https://www.insidehighered.com/views/2017/03/30/colleges-need-language-shift-not-one-you-think-essay
Tizon, Alex. (2020). Invisible People: Stories of Lives at the Margins. Temple University Press..